LEGALLY BLONDE
Erm.. legally blonde..
Suda terlalu lame ku mencari crita ini..
Akhirnya hubby dpt jga carikan n bg kt nad..
Suke cgt3 citer ni..
Cerita ni berkisahkan tentang seorang wanita yang cgt comei..
Elle Woods, yang dilakonkan oleh Reese witherspoon..
Watak Elle adalah cgt
cheeky.. idealistic.. berani.. n never give up..
Serta
percaya pd diri sendiri..
Selain drpd tu.. dia
cgt peramah.. 
Dalam legally blonde 1, mengisahkan tentang wanita blonde itu yang
berusaha gigih
untuk msuk ke
Harvard law school
.. supaya dpt dekat dengan ex boi dia.. namun.. ex nya itu suda pOwn mempunyai tunang bawu.. dia cedeyh namun dia rasa tercabar dan akhirnya dia berjaya menyelesaikan satu kes mahkamah.. dan berjaya jd peguam..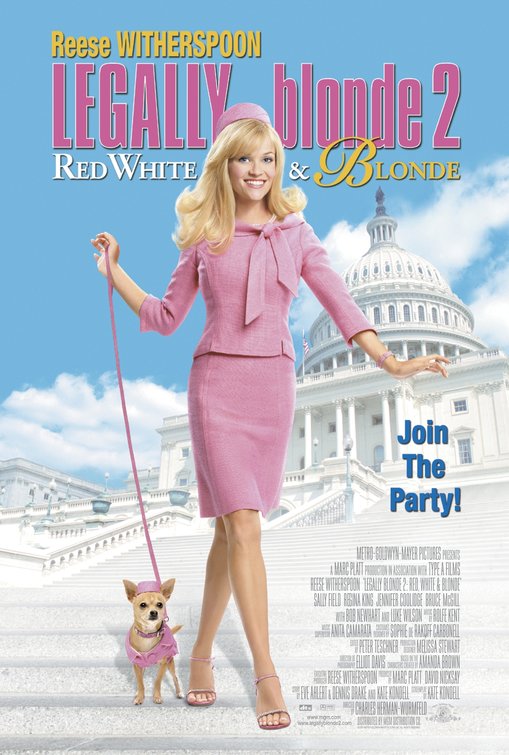 Legally blonde 2 pula..
Mengisahkan tentang Elle yang mencari ibu bapa sebenar kepada anjingnya..
bruseir..
Kinda funny..tp pemikirannya itu telah berubah menjadi lebih seyes apabila ibu anjingnya itu hampir menjadi bahan ujikaji sebuah syarikat kosmetik. 
So she want to
stand for all animal
(especially dog).. and lawan abisan tuk mengharamkan ujikaji terhadap animal2 tu..
Dia sgt
comei
.. i always nk jd mcm dia..
N quite sometime, rase gak mcm dia sket2 kdg2..(ahaks! Pasan..pasan..)
I really enjoy da story..
Suke..suke..ske sgt..
So, those of u yg minat citer yg
girlish2
ni ok la..
*Menjadi peguambela.. kiut..
U noe whut…
I love her dress.. I love her style..love her shoes.. love her bags..
N byk sgt.. I ske ttg dia..
Kind a cute when she walk.. or run..
Definitely.. she is cute..damnly cute..
Dia tak pernah kisah pun ttg pendapat org lain..
I ske sgt sikap tu..
Dia sgt gigih berusaha.. sehingga la menjadi the best law student..
Sikapnya yang peramah, sweet dan manja menyebabkan ramai yang suke padanya..
Best2..
*an honest voice is better than crowd..

*have faith in ur self..
*Snap cap..
Love it..